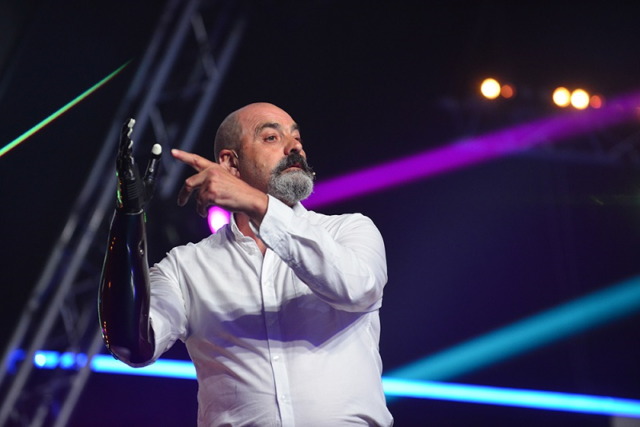 When we talk about technology and innovations, we usually have in mind the digital transformation in companies, numerous apps and the hidden formulas behind our portable devices. However, technology influences health industry and bionic humans are no longer a product of sci-fi films and stories.
In 2018, Sofia welcomed an ordinary man with extraordinary arm. He and the people behind his bionic arm proved that injuries are no longer a fate to regret, rather than once in a lifetime experience. Mr Nigel Ackland is using a bionic arm after a work incident 10 years ago. His stories are usually very passionate and personal. He shared one @Webit stage.
Is it life-changing?
No, it isn't. But it's changing the perspective of others and often our injuries making them uncomfortable.
As Mr Ackland puts his arm on stage and shows it, he says:
What I'm seeing is smiling faces. It doesn't get much more positive than that.
Let's look at the specifics:
It has a vacuum plug, to ensure maximum stability
plus a charging point, just like a phone
It has a wrist band for rotation, without using your other arm
You can still feel some harsh movements, but it has no sensitivity
The fingertips glow in the dark so it's useful because the arm itself is black
If you have something that's not accessible and affordable to many people, why bother?
The usual injuries with the loss of a limb happen to manual workers, mostly men, who have manual salaries and have manual health insurance that doesn't cover such prosthetics. This arm, although the elder version, costs about £25 000 in the UK, $98 000 in the USA. It's expensive.
If you change attitudes, you can change lives.
Perhaps it's about time we did start to innovate and change attitudes.
In Europe, about 4 billion Euros is spent on such arms, but not quite the same as this. To all the political leaders out there: it's time for you to innovate, change your attitudes, re-write your policies and focus on better quality of life.
Will it happen? Nobody knows. But somewhere out there people are innovating.
Before being given the arm, Mr Ackland was asked to picture himself in the next year or two and he couldn't. He had to think hard to come up with the image of a country house, field and a very peaceful life. Exactly one year later, he stood up before an audience talking about his experience with the new arm. It was June 2013.
Today I'm here at Webit, one of the largest innovation, most provoking summit in the whole of Europe and it's got to be positive.
Every single one of you, whether knowing or not, just by coming here and listening, is part of the positive change for me.
---
Missed the 2018 edition of Webit.Festival Europe? Don't miss the 2019! Get your super early bird 2in1 tickets – 2 for the price of 1 here!